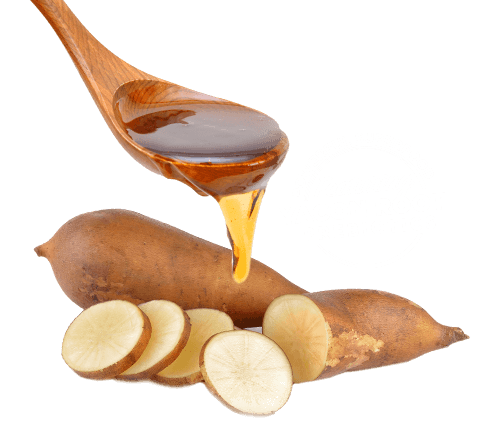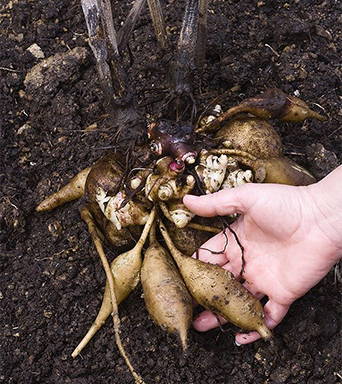 WHAT THE HECK IS YACON ROOT?
Yacon root is a species of perennial daisy that comes from South America and has been part of the Andean diet for hundreds of years. The Yacon root itself sort of looks like a sweet potato, while the syrup resembles molasses. Its name translates to "watery root" and has been compared to to the taste of apples and watermelon which makes it great as a natural sweetener.
What is Yacon Root Syrup?
Yacon root syrup is used as a gut-healthy alternative to other sweeteners. Unlike artificial sweeteners like Aspartame, Saccharin and Sucralose, which have a bad reputation for damaging gut health, Yacón root syrup actually improves digestive health by feeding your gut bacteria the stuff it needs so you can keep being awesome.
The Yacon plant is mostly made up of fructooligosaccharides (we call it FOS), or sugars that your body can't digest, and that's a good thing! FOS are a form of PREbiotics, the food for all those PRObiotics in your gut. Together, PRE- and PRObiotics help you cleanse your system and boost your immunity during the digestion process. Pretty cool, right?
THE BENEFITS OF YACON ROOT.
Yacon is a true wonder food! Check out all these health benefits you can enjoy just by eating Yacon syrup:
IT ENCOURAGES GOOD BACTERIA IN YOUR GUT:
All the good bacteria in your intestines LOVE the PREbiotic elements of FOS. Plus, Yacon root is a natural mild laxative, preventing constipation and the dreaded belly bloat.
IT LOWERS BLOOD PRESSURE:
Yacon has loads of potassium, which relaxes blood vessels and helps your heart pump with ease.
IT HELPS REGULATE BLOOD SUGAR
The FOS in Yacon root syrup prevents the body from absorbing simple sugars, which is very helpful for people watching their blood sugar levels.
IT CAN SUPPORT IN MANAGING & MAINTAINING A HEALTHY WEIGHT:
Studies show people feel more satiated after eating the yacon root. This is because yacon is high in fiber and low in calories, keeping you full longer without extra calories weighing you down.
IT BOOSTS LIVER HEALTH:
Because our bodies don't absorb the simple sugars, there's less glucose production in the liver. Since the liver is where most of our glucose is made, this means eating Yacon syrup regularly can keep your liver from getting fatty.
IT KEEPS "BAD" CHOLESTEROL DOWN:
FOS helps lower your lipid levels, which helps maintain healthy cholesterol.
HOW CAN I GET MY HANDS ON IT?
Ha! You know the answer to that. Yacon root syrup is the super sweetener in all Rowdy Prebiotic Food products. Right now, you can choose between Chocolate Coconut Cashew, Peanutty Dark Chocolate, and Sunflower Butter N' Berries flavors. Get the amazing benefits of Yacon root in our tasty, ultra-nutritious and convenient bars.